About The 30 Passenger Party Bus
You have reached 30passengerpartybus.com. Your best provider of party bus service in Metro Detroit. We offer a party bus that can accommodate up to 28-30 passengers. Our bus is top of the line and has everything you need to make an enjoyable night out. We service all of south east Michigan with our bus and travel to any destination in Michigan you want. Our limo bus prices range from $140 per hour up to $180 per hour and require a minimum booking of 6 hours.
Renting a luxury bus adds to grandiose atmosphere of your next event. Party buses are an uncommon experience, meaning that a person doesn't get to ride in one everyday. It's a luxury and almost like a prize. It's something that everyone says they want to do at least once. It allows for groups to travel together so no one feels like their being left out. It also lowers the chance of people showing up late or getting lost.
Many people would think that getting a chauffeured vehicle is too expensive for what it is. It pays for itself in the experience you get to have and the memories you'll make. You'll be surrounded by your close friends and/or family members, dancing, drinking, talking and more. A constant party in between your stops. If you are drinking, there's no need for someone to miss out on the fun by having to be the designated driver. Also not having to find smelly taxis. Best of all, if you didn't have a bus, and decided to drive with a few drinks in your system, you could get pulled over or worse, in an accident. Paying for a limousine bus is far less expensive compared to that of tickets, danger, jail time, and hospital bills.
Your chauffeur knows where all the hot spots are. They are professionals who know how to drive and have been doing it for awhile. They always have a GPS with them to ensure that they are never lost and taking up time you could be spending at your event. The drivers also plan the route before your run so that they know the best, time efficient way.
Our 30 Passenger bus and as well as our other buses are full of amenities. Take a look below at our many features and as well as more detail on the pages of individual vehicles. Here are some of the features our 30 passenger bus has: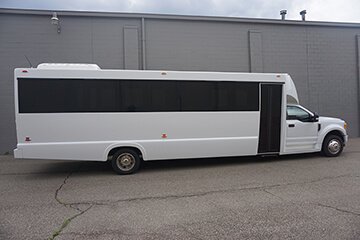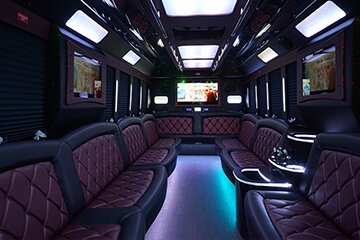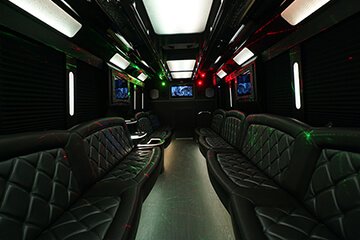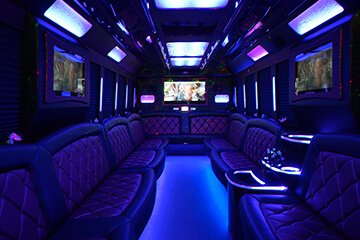 Several large LCD TV's
Colorful LED lights and light shows
Exciting laser lighting
Ambient lighting throughout
Grab handles on ceiling
Beverage station with large cooler
Cup holders behind seats
Cup dispenser mounted in bar
Blue-Ray DVD player
Comfortable perimeter seating
Booming stereo system
Places to plug in your phone or MP3 player
Many consider the Motor City to be down and out, but little do these outsiders know that The Renaissance City is not only rich in historical significance but is also a city on the rise with a hungry, vibrate culture that not only pays homage to it's marvelous history but remains stalwart in looking forward to it's own bright future, one filled with a modern community, a thriving artistic scene and a new culture of business that attracts the next generation of innovators. We are a city destined to fulfill it's motto Speramus Meliora; Resurget Cineribus, a phrase which translates to "We Hope For Better Things; It Shall Rise From the Ashes".
There are no shortage of interesting events in the Metro area as well as the city proper. Visit the stadiums to show your support for the Lions, Tigers, Red Wings or Pistons game. All of which are now conveniently located downtown in the sports and entertainment district. Those aren't the only sporting events hosted in "The D", race fans also have events to look forward to with the return of open-wheel racing to Belle Isle hosting both the Indy Racing League as well as the American Le Mans Series. You also have college sports in the city with both University of Detroit Mercy and Wayne State University's Division I & II NCAA programs, as well as the MAC Football Championship Game and the Little Caesars Pizza Bowl hosted at yearly at Ford Field.
Motown of course continues to have a prominent music scene. Including concert series such as Rockin' On The Riverfront every summer with classic rock performances on Friday nights. The International Jazz Festival held every year at Hart Plaza and Campus Martius on Labor Day weekend. While on Memorial Day weekend you can experience the Movement Electronic Music Festival at Hart Plaza consisting of over 100 acts. The area is home to many great live music venues that feature the worlds top artists every year. DTE Energy Music Theatre formally known as "Pine Knob Music Theatre" ranks among the top selling outdoor amphitheaters in the world.
In addition to the largest concert venues in the area we have many other theaters for not only live music but performing arts. Located on Woodward in the heart of downtown is The Fox Theatre, The Fisher Theatre on West Grand Boulevard housed in the beautiful Art Deco Fisher Building, The Music Hall Center for the Performing Arts, The Masonic Temple Theatre, The Fillmore, Saint Andrew's Hall, and the Opera House which reopened after an extensive restoration in 1996.
That is all just the tip of the iceberg we haven't even yet touched on the numerous museums, such as the Institute of Art or the Museum of African American History. The many casinos for when you're feeling a bit lucky, or just a nice family friendly outing to the Zoo which attracts nearly a million and a half visitors annually.